HENNER & PARTNER
marketing and communication specialists
.experience
Over 10 years of marketing experience in various sectors, ranging from finacial industry to FMCG to sharing economy.
Profound knowledge in digital marketing, communication with strong expertise in new media, brand management as well as establishing strategic partnerships.
Master's Degree in Media and Communication and Computer Science from the University of Zurich.
Fluent in German, English and French
Passionate traveler and active outdoor lover; mountain biker, kite- and snowboarder, …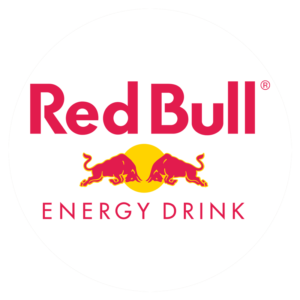 Head of Digital Marketing – Switzerland
Setting up and leading the Swiss digital team.
Drastically increasing webtraffic on all local channels and establishing a solid footprint in all company relevant social media channels
Constantly developing new approaches and solutions to increase the reach, interaction and the engagement driving traffic to all digital channels.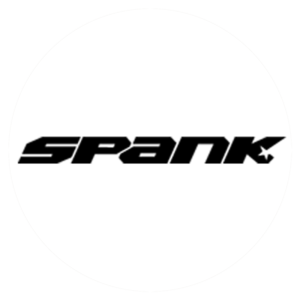 Global Head of Sales and Marketing
Driving the globals sales of the brand in alignment with all marketing activities. All in coordination with the group communications department for planning and execution of global event and tradeshow participation, such as Crankworks, Sea Otter Classic, Eurobike and all other activities.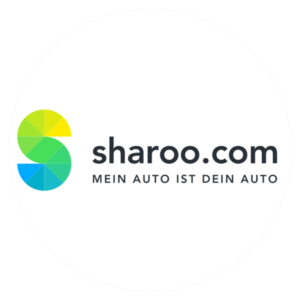 Chief Marketing Officer
Developing and implementing the strategy to bring the first Swiss carsharing platform top of mind on a national level. 
Managing the marketing unit coordinating all ongoing marketing and communication activities, as well as building up strategic partnerships to maximise the communication impact on for Switzerland.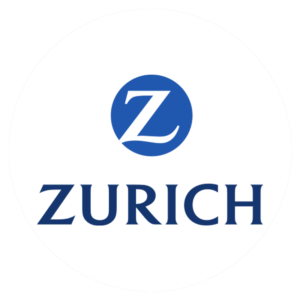 Global Program Project Manager
Leading global IT infrastructure projects and programs with internal
and external stakeholders, virtual and globally distributed teams.
Delivering against fixed budgets and competitive timelines
.references

.case 1 – seabase 1910 – digital event experience (red bull)
The mission
In June 2015 Patrick Seabase, a Swiss fixed gear cyclists, set himself the goal to ride the legendary Tour de France etape 1910. 
Due to it's remote location and difficult terrain, the efforts to provide a full live TV stream coverage through the entire attempt would have been to much.  There a solution had to be developed to use the digital channels to enhance Patricks experience to a broader, not physically presend audience. 
A full communication strategy was developed to promote the event ahead of the actual date and offer the spectators a unique experience. 
The approach
Patrick Seabase got equiped with a Live GPS tracker which got connected to his cycling computer to continuously upload all relevant data
The data got collected in a central microsite, which visualized all his achievements in realtime. 
This page also built the basis for all other communication to all channels, such as social media and partner platforms
The result

In average there were about 2000 simultanious visitors at any point over the whole event on the website, following seabase progress.
Hundreds of tweets and retweets about the event with the official hashtag #Seabase1910 including tweets from Gee Atherton and Fabian Cancellara
Over 1 Million video views within the first 3 weeks after the event of all actionclips and newsedits produced during the event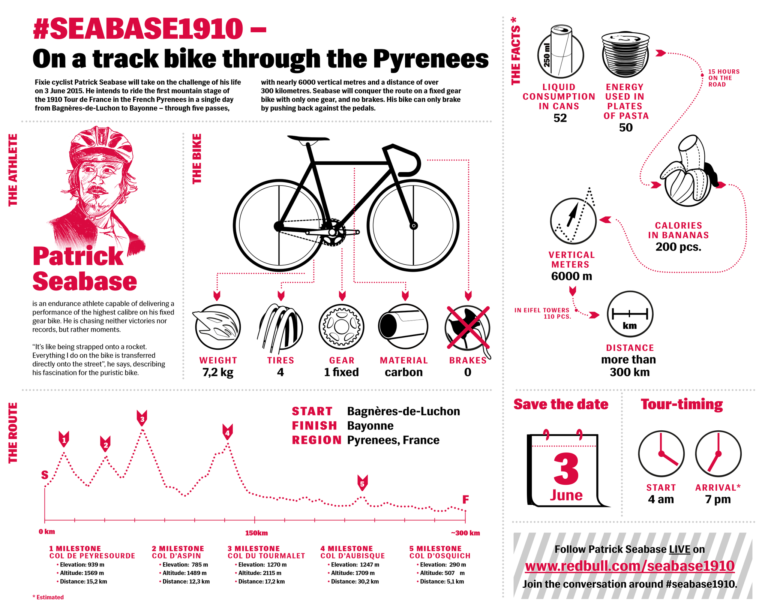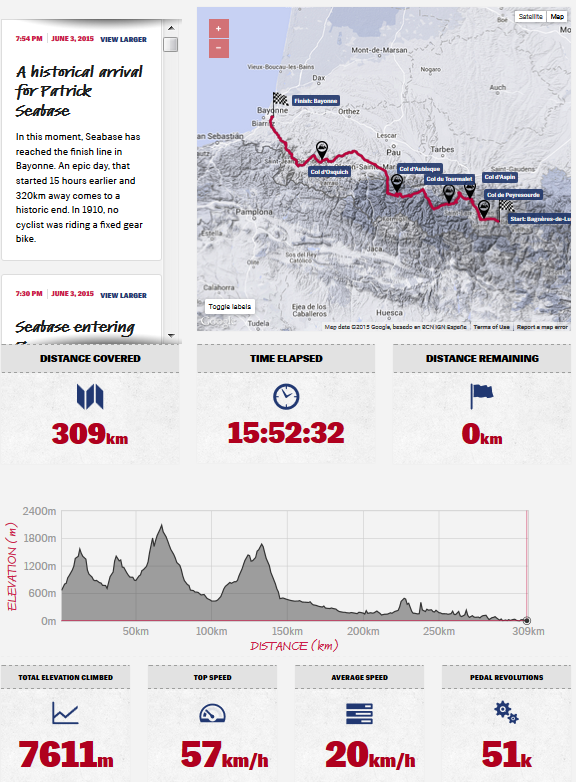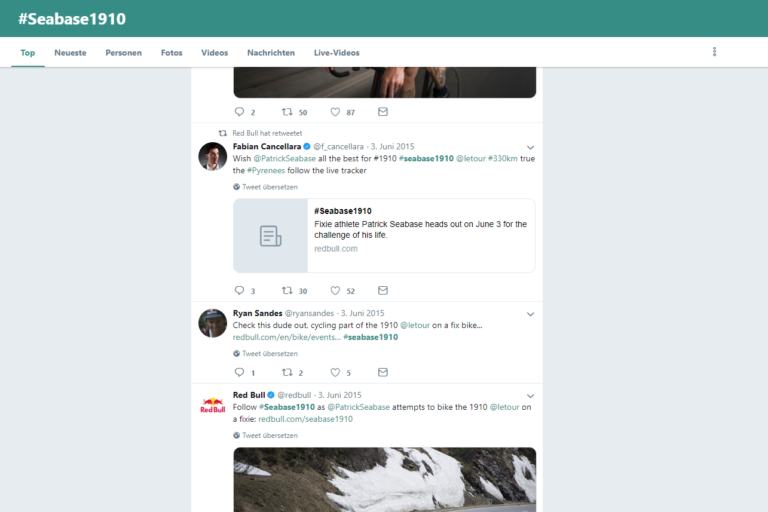 .case 2 – national awareness campaign (sharoo)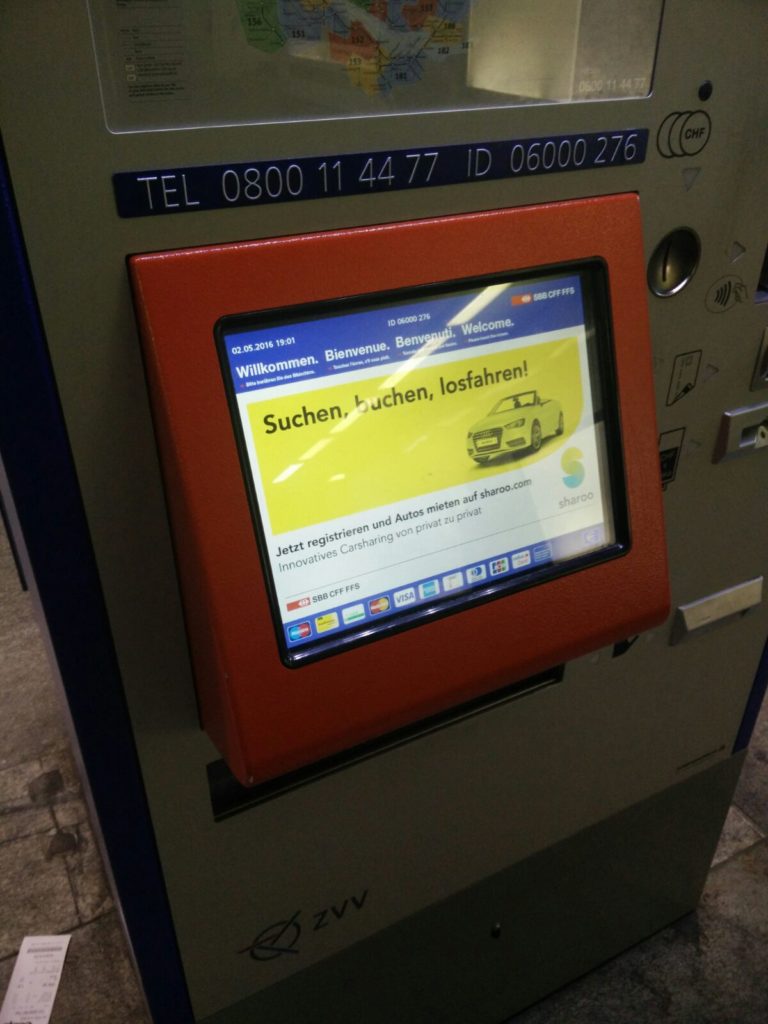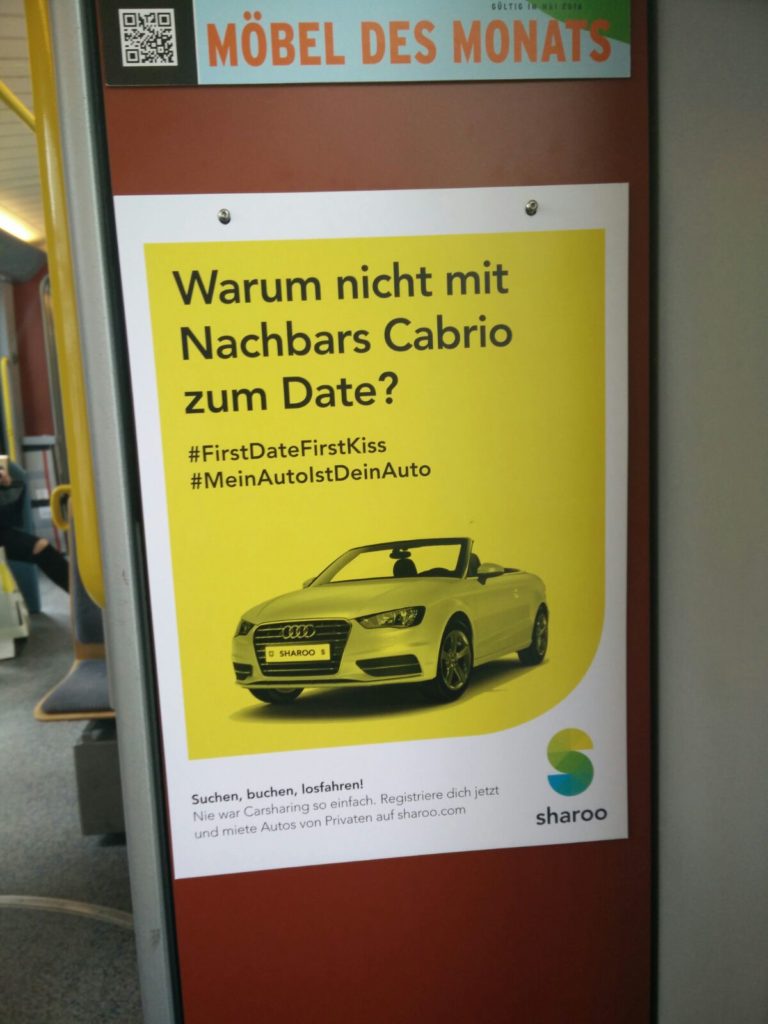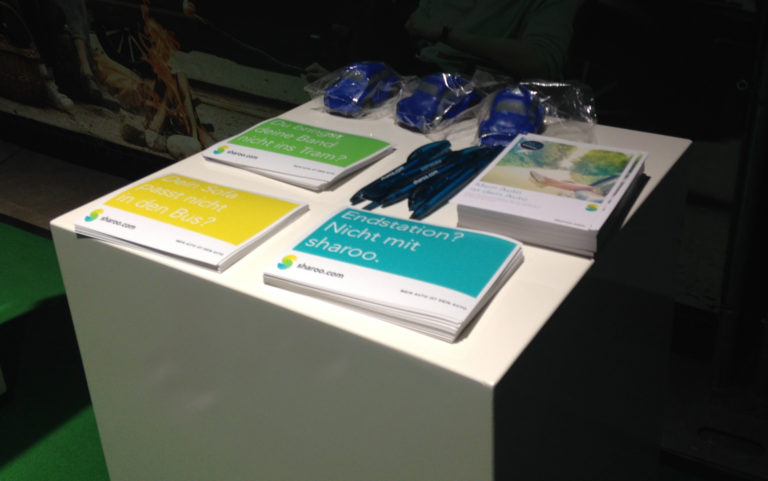 The mission
sharoo a new Swiss startup company in the sharing economy wanted to gain track and drastically increase users and cars on the platform. Therefore a nationwide marketingcampain had to be planned to bring the brand top of mind and highlight the benefits of individual carsharing. 
The approach
The implemented campain was a mix out of traditional ATL campaign with advertising in highly relevant strategic places and "transportation hotspots" all over Switzerland, combined with BTL activities, including Social Media and Google Adcampaigns. In addition to that there were also partnership with national influencer as well as community events.
The result

The national campaign generated within 4 weeks of it's launch 3000 new registrations for "renters" on the platform of which roughly 4% rented a car within the first month after registration (Upon registration, the users were given a coupon for discounted rental fee)
 In regards of registering new cars to the platform, there were 200 requests for additional details on the requirements and costs to become a car lessor
The campaing also genereated several articles in national newspapers, generating additional leads in the following months 
.case 3 – social media strategy (spank)
The mission
Due to lack of ressources, SPANK industries had been struggling getting a consistent social media presence and engagement with their audience. 
The social media content from the majority of bycicle – or bycicle components manufacturers are similar and therefore completely replacable. 
The goal was to establish a proper strategy and implement it, to boost the brands presence on social channels and also leverage the various engagements with athlete and event sponsorships.
The approach
Creating a content strategy to be distributed to all defined channels to stand out from the other brands. Establishing a mix of brand content, mountain bike lifestyle content, technical content around the products and pure promotional content. This got packed into a monthly schedule, taking events, happenings relevant for the community into account. With an ongoing evaluation of all content, it was then possible to increase the impact by sponsoring certain content specifically to multiplay it's reach with a minimal budget.
The result

Increase of fans on Facebook by over 75% and on Instagram by over 65% within 12 months
 Create an ongoing dialog with consumers on facebook and instagram, getting quality feedbacks on products and consumer wishes
Regionally targeted adcampaings supporting distributors to increase their sales and promote new products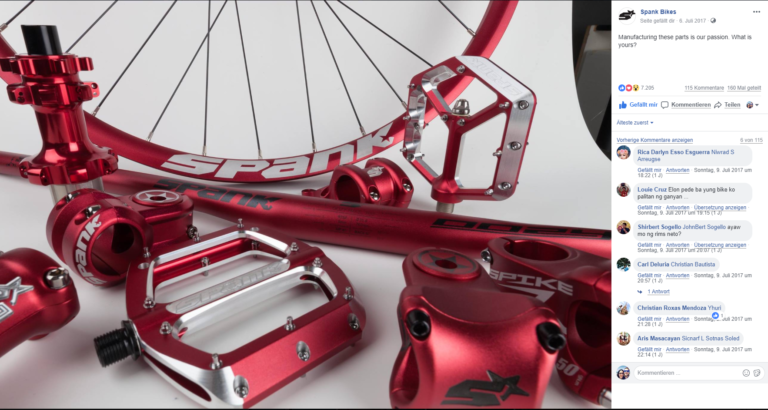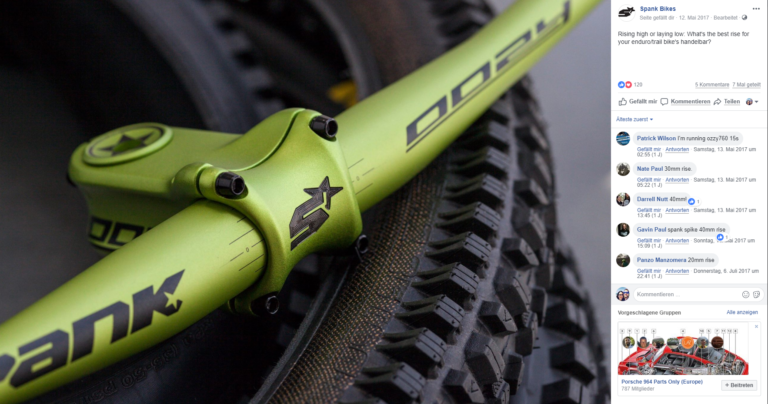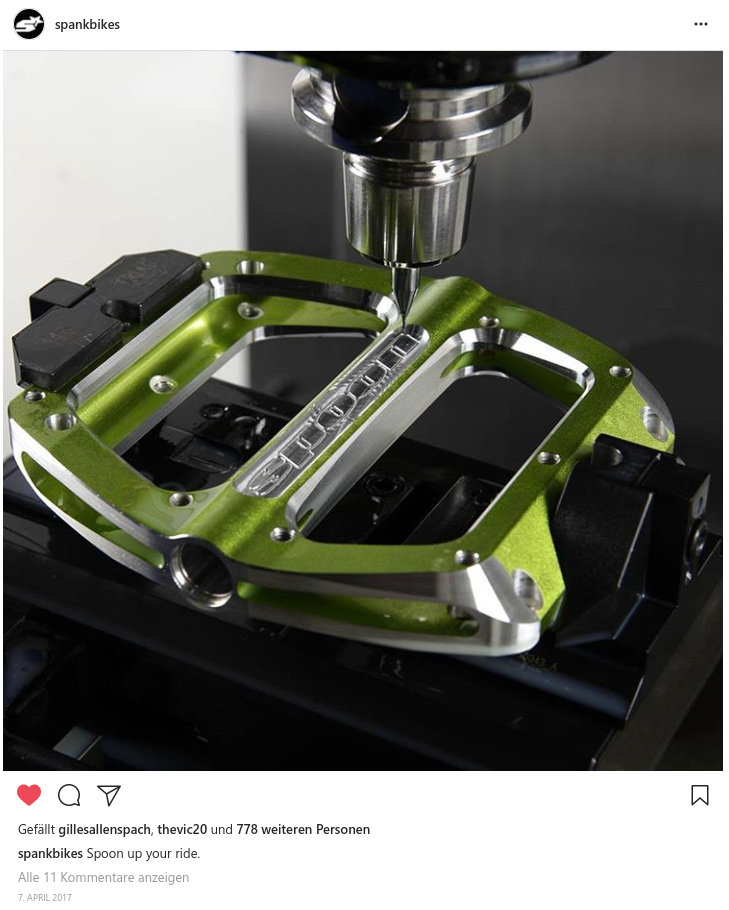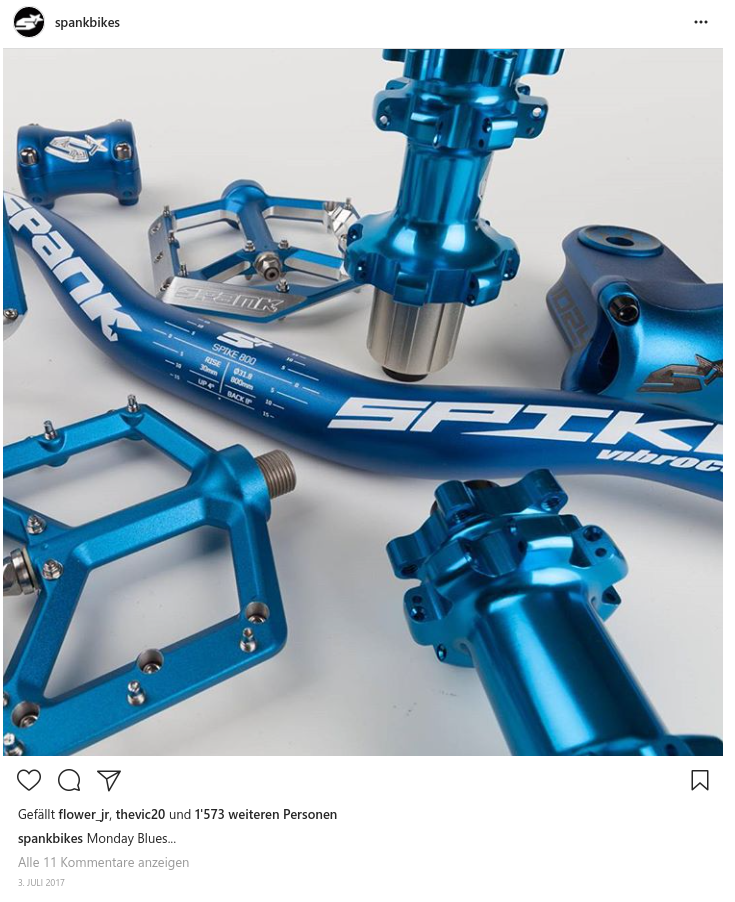 .case 4 – amazon sales push (golden eagle outdoor)
The mission
Golden Eagle Outdoor is a small Swiss outdoor gear manufacturer, having been selling camping hammocks and accessories for several years mostly through amazon. Over the past 12 months, Chinese manufacturers started entering the market directly, competing the brands that actually bought their OEM products. As a result, the sales of Golden Eagle collapsed, with still a large stock of products.
The brand owners decided to end their brand once the products were completely sold out. The mission therefore was to create a sales push, to drastically reduce the stock levels, eventually selling out all products
The approach
Amazon itself provides several platform owned advertising tools, such as PPC ads, Product category banners, lightning deals. A mix using these tools, in combination with Google SEM and Facebook ads was used to increase sales peaks on selected dates with the goal, to improve the Amazon product ranking which would then again organically boost sales.
The result

Aligned advertising activities prior to "Black Friday" lead to sales of almost 5000 units on Black Friday 2017, making Golden Eagle Hammocks over night to number 5 most sold hammock products on Amazon US and DE.
Dedicated christmas promotion on Facebook, Instagram and Amazon lead to an additional sales of around 2500 products, this time focussing on bundle offers and accessories. 
Mid 2018, the stock level had been reduced by over 85%, preventing additional storage cost surcharges and forcasted to be completely sold out by end of 2018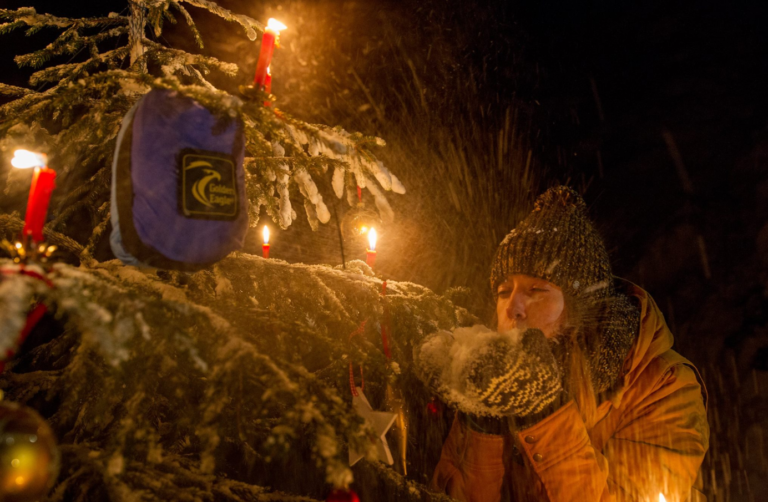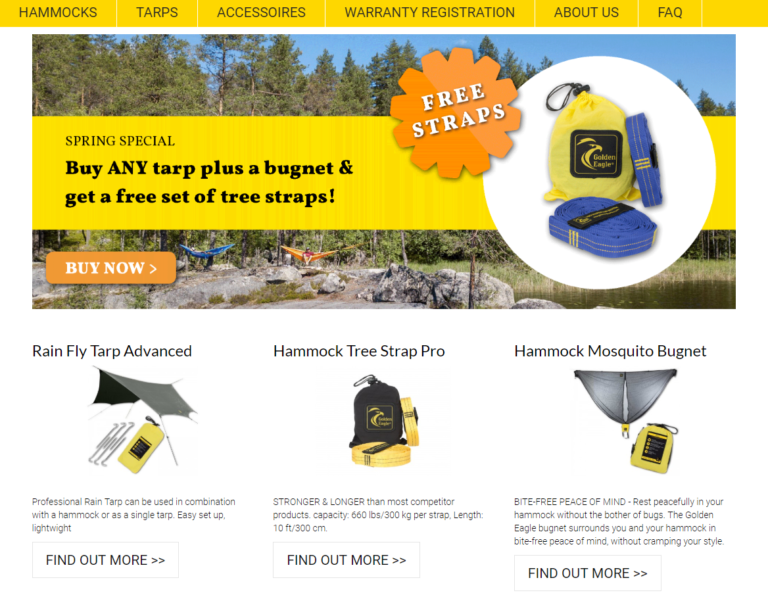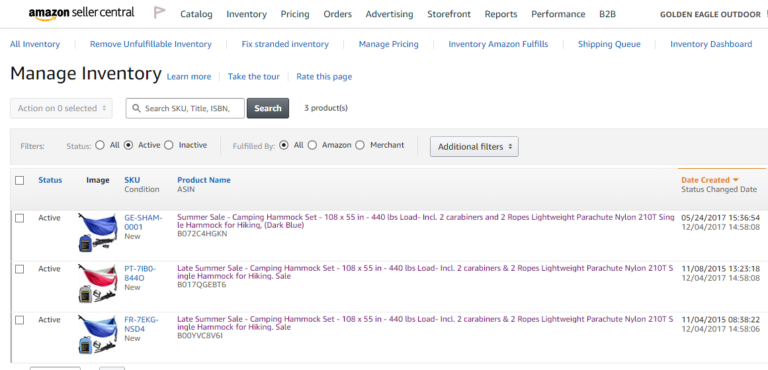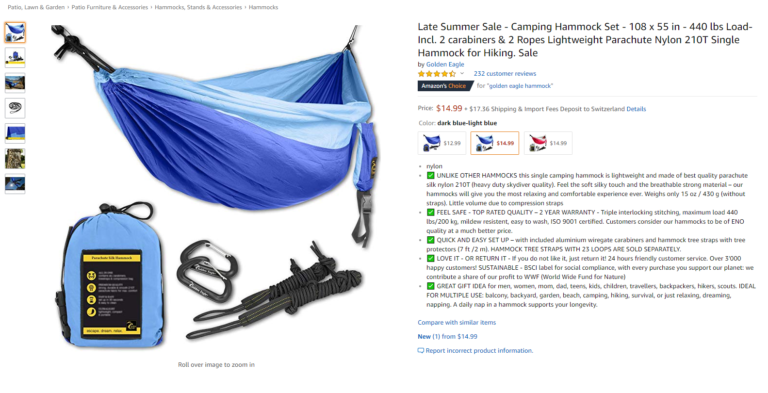 .still want to know more about heinz henner?
Want to read a full resume?
To find out all the nitty gritty on a nice one pager CV, just click on the above icon.
Want to network and connect?
Not in the mood to look at the "traditional cv"? Click on the above icon to reach out via LinkedIn.
.thank you, for your interest